Choose from Many Options
Inbound 13, 1300 and 1800 numbers are available in many forms. Choose from Free Pool Numbers to boost your business presence and ensure your business has the same number even if you change locations; improve brand awareness and promote your company name with a Phone Name; gain an edge on your competitors and promote your product or service with a Phone Word; or maximise the return on your advertising investment with a Premium Number. Whatever the choice, your business will gain many benefits by getting an inbound 13/1300/1800 number.
Available 1300 and 1800 Numbers
There are over 2 million numbers available for connection. The choice includes freepool numbers and over 1.5 million smart numbers that come as phone names, phone words and numbers with an easy to remember numeric pattern.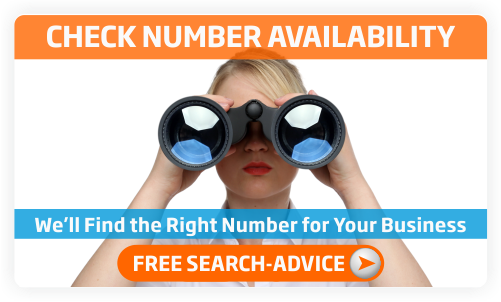 Our 1800 number has been very helpful in engaging our customers, especially because it is a free call number. Being in the health industry, we want our customers to be encouraged to contact us and that's what the free call feature does. The 1800 number, which is also a phone name, has been very successful for our business.
Call us on 1300 00 1300 or CLICK HERE and we'll search for an available 13, 1300 or 1800 number for your business. This is a free service and there's absolutely no obligation to get or connect the number through Business1300.
Things to Consider When Choosing the Type of Number
Although the process of choosing a number is not hard, it pays to give it some thought. The number one question is how memorable the number should be. Will it be a major part of marketing and promoting the business?
If the answer is yes, then the second question is, what will it be helping to promote? Will it be the business brand, its product or service, or just the business in general. Once you're clear on that, the rest is easy. Following are some things to consider when choosing the type of number for your business.
How important is it for the number to be memorable?
Will it be used for display advertising, in particular signage and billboards?
Will it be used for TV and radio advertising?
Do I need the number to boost my business branding?
Do I need to make a strong first impression?
Will the number be used for promotion of products and services?
Will the number be connected at all times or is it being used for special events?
Do I need multiple numbers and do they need to be sequential?
Do I need to get a matching fax number?
Do I need to provide a Free Call service to my customers?
What type of number do my competitors have?
Is it important to own the EROU (Enhanced Rights of Use) to the number?
What's my budget to have a number and keep it active?
Who's the target audience?
Once you choose the number, it has to be connected to a network. Business1300 has some of the most competitive plans available. Our plans start from $15 per Month including call credits and come with a full suite of features and functions.
Not Sure What Number Best Suits Your Business?
Business1300 offers a Free Search and Advice service to help you choose the right number for your business. There are many options available and it's important to make the right choice. After all, changing the number down the track is not ideal.