AVAILABLE 13 1300 1800 NUMBERS
Choose from a Huge Range of 13, 1300 or 1800 Numbers
Available 1300 and 1800 Numbers
Choose from Free Pool or Buy a Smart Number
There are many available 1300 numbers to choose from, and even more 1800 numbers. Inbound numbers come in many forms. Choose from Free Pool Numbers to boost your business presence and ensure your business has the same number even if you change locations; improve brand awareness and promote your company name with a Phone Name; gain an edge on your competitors and promote your product or service with a Phone Word; or maximise the return on your advertising investment with a Premium Number. Whatever the choice, your business will gain many benefits by getting an inbound 13, 1300 or 1800 number. And we'll help you choose the best available number for your business.
Free Pool Numbers
Minimise the cost of getting an inbound number by choosing from a list of available free pool numbers. Keep the number for as long as its connected to a network and regardless of where your business premises are located.
Free Pool Numbers
Smart Numbers
Build your brand and promote your business name with a phone name. Advertise your product or service with a phone word. Smart numbers are up to 5x more memorable than ordinary numbers and it's working for your business every time someone dials or looks at the number.
Smart Numbers
Premium Numbers
Get a highly memorable numeric pattern to ensure your customers always remember your number. Huge range of numbers still available to choose from. Seize the market with a premium number or get a smart number to stand out from the crowd.
Premium Numbers
We'll Help You Find the Right Number for Your Business
With so many available options, choosing the right 13, 1300 or 1800 number can at times become overwhelming. Searching the ACMA database for a suitable number takes time and experience. We 'live and breathe' business solutions and our extensive experience means we understand your needs.
Free Search and Advice
Our Free Search and Advice service is designed to help you find the right number from all the available options.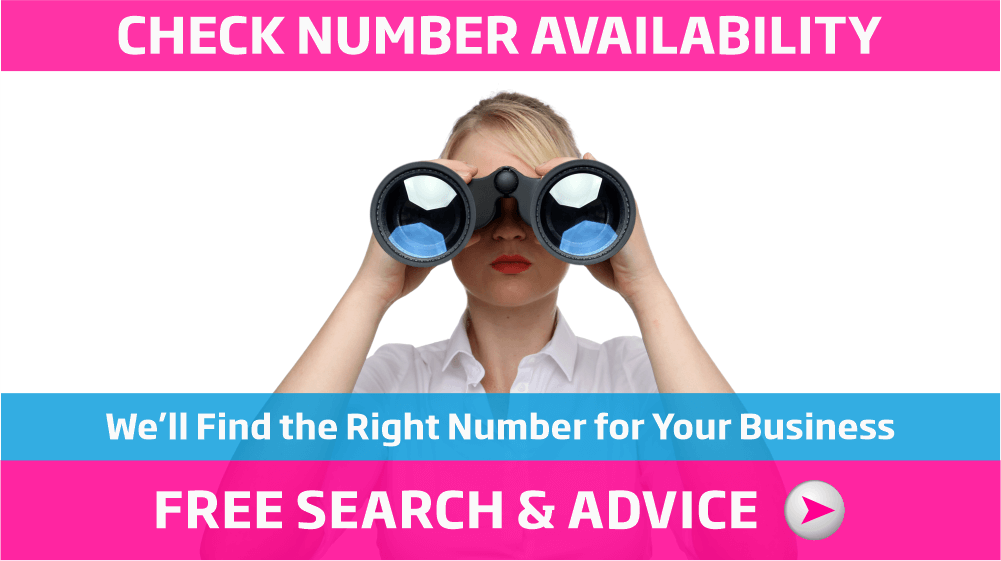 3 Steps to Finding the Perfect Number for Your Business
Finding the right number is an easy 3 step process. However if you're not sure what you're looking for, our team of expert consultants offer a FREE Search & Advice to help find the right fit for your business.
Choose the Number Prefix
If it's important to provide a free call option for your callers then a 1800 number is the right choice. If all that's required is a national number where callers are charged a local call rate, then a 1300 number is more than suitable. The last option are 13 numbers which are mainly used by large national companies that require numbers which are short and easy to remember. The reason why they're mainly used by large companies is the additional licencing costs which most SME businesses can't justify.
Choose the Number Type
If the number doesn't have to be very memorable, then a Free Pool number is more than sufficient. But if it will be used for marketing purposes and to help promote the business, then a smart number would be a wise choice. Then it's only a matter of choosing the word or a preferred sequence of numbers from the ACMA database. There are still over 1.5 million numbers available for connection.
Get a List of Available 13, 1300 or 1800 Numbers
Once you know the prefix and the type of number, we can supply you with a list of available numbers to choose from. Once you select the number, we can organise the rest. We'll either arrange for the number to be allocated to your business or purchase it on your behalf from ACMA. We will then connect it to our enterprise grade network on one of our ultra-competitive plans.
FREE POOL NUMBERS
Boost Your Business Presence
Free Pool 13, 1300 and 1800 Numbers are issued by ACMA (Australian Communications and Media Authority) and kept on a database that can only be accessed by Inbound Number Providers.
SMART NUMBERS
Get Noticed with a Smart Number
ACMA Smart Numbers incorporate phone names, phone words and numbers with highly memorable numeric pattern. There have been over 55,000 numbers purchased through ACMA since 2004. There are still over 1.5 million 13-1300-1800 smart numbers available to purchase.
PHONE NAMES
Build Your Business Brand
One of the best ways to promote your business name is through a Phone Name. By having the number spell the name of your business through the alphanumeric keypad, every time a customer dials the number they are also dialling your business name.
PHONE WORDS
Make Your Marketing Stand Out
Phone Words are an excellent way to get noticed and are 5x more memorable than ordinary numbers. Just having a number that incorporates your product or service is promoting your business every time someone looks at it.
PREMIUM NUMBERS
Make a Lasting Impression
Premium Numbers are proven to get better marketing results. Apart from the 'wow' factor, they're easier to remember and generate better response rates. Why chance the success of your marketing campaigns by getting an ordinary number? Incorporate a word closely associated with your business or choose an easy to remember number sequence to make a strong impression when displaying the number in your marketing material.
See What a 13, 1300, 1800 Number Can Do for Your Business