Calls to 13 numbers are charged at the local call rate from any Australian phone line, making it a local number anywhere in Australia. It comes in two versions, either a freepool number with no upfront cost, or a smart number which can either be a phone name or a phone word.
Look 'BIG' with a 13 Number
Being only 6 digits long, 13 numbers are potentially the easiest to remember. That's why they're very popular with Australia's leading organisations and preferred by marketers. They're also more expensive than 1300 and 1800 numbers as they attract an ACMA numbering charge of $695 (plus GST) per Month. But, if you're leaving nothing to chance and you can justify the expense, a 13 number can become a very powerful marketing tool for your business.
For information on our 1300 Number Plans and 1800 Number Plans, please click on the link.
Save $$$ With Our Ultra Competitive Corporate Plan
Our CORP13 plan offers ultra competitive, enterprise level 13 number call rates and charges. In addition to some of the best rates available, the account holder receives 20 minutes free per local call. We also have Post Code Prompting for muti-site operations and franchise networks.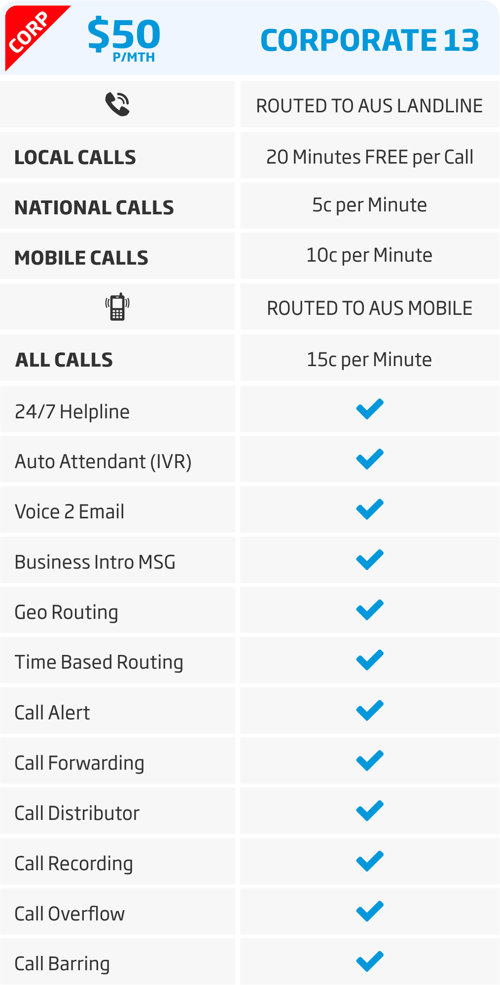 critical information summary ›ENQUIRE NOW ›
Call us on 1300 00 1300 or CLICK HERE and we'll find the right 13 number for your business.
Businesses That Should Consider a 13 Number
Seize the Market With a 13 Number
National distributors of products or services, especially directly to the consumer market. Consumers are more likely to remember a six digit number.

Businesses that advertise their products and services on a large scale and the phone number is the featured point of contact.

Businesses where the major point of contact is the telephone number and its important the number is easy to remember.

Businesses that are competing directly with large, national companies. And its important they're seen as being in the same league.

Businesses that want to look 'bigger' than their competitors and want to make an impact. Getting a 13 number elevates the company's status.

Businesses that do a lot of display advertising such as signage (building and motor vehicle), billboards and posters.
If you're unsure as to whether a 13 number is right for your business, call one of our Business Consultants on 1300 00 1300 or CLICK HERE to make an online enquiry. We're the experts in helping businesses get their ideal number and have the full range including state based local landline numbers. So you're guaranteed to get the right advice. And we promise not to pester you to make a decision.