Look 'BIG' with a 13 Number
Being only 6 digits long, 13 numbers are potentially the easiest to remember. That's why they're very popular with Australia's leading organisations and preferred by marketers. They come with the same features and functions as 1300 numbers, and the only difference between them is the number of digits. Both are nation-wide numbers and the callers are charged the cost of a local call from any Australian phone line.
Cost of 13 Numbers
The cost of a 13 number is substantially higher than a 1300 number. The reason is that 13 numbers attract an additional ACMA numbering charge of $695 (plus GST) per Month, making the overall cost much greater. However, if your business is planning to do mass marketing and the phone number is an integral part of the campaigns, the additional cost may be worth it. 13 numbers are short and very easy to remember, which means they will most likely generate a better response rate and more inbound calls.
For information on our 1300 Number Plans and 1800 Number Plans, please click on the link.
Save $$$ With Our Ultra Competitive Corporate Plan
Our CORP13 plan offers ultra competitive, enterprise level 13 number call rates and charges. In addition to some of the best rates available, the account holder receives 20 minutes free per local call.
We also have Post Code Prompting for muti-site operations and franchise networks, as well as a Pro Voice Message and IVR Recording Service utilising a range of professional voice artists.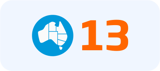 Corp 13 Plan
$50 per Month
Local Calls - First 20 Minutes FREE per Call then 5c per Minute
National Calls - 5c per Minute
Mobile Calls - 10c per Minute
All Calls - 15c per Minute When 13 Number Is Routed to an Australian Mobile
ACMA Numbering Charge $695 per Month
Included Features
24/7 Helpline
Auto Attendant (IVR)
Voice 2 Email
Business Intro Message
Geographical Routing
Time Based Routing
Call Alert
Call Forwarding
Call Distributor
Call Recording
Call Overflow
Call Barring
Tailored 13 Corporate Plans
If you have specific requirements or have an existing number with a high volume of calls, we can tailor a 13 plan to suit your needs. Please call us on 1300 00 1300 or CLICK HERE to make an online enquiry.
Businesses That Should Consider a 13 Number
Seize the Market With a 13 Number
National distributors of products or services, especially directly to the consumer market. Customers are more likely to remember a six digit number and calls are charged at the local call rate from any Australian phone line.

Businesses that advertise their products and services on a large scale and the phone number is the featured point of contact. Being more memorable, 1300 numbers generate better response rates and more inbound calls.

Businesses where the major point of contact is the telephone number and its important the number is easy to remember. Get more repeat business and referrals by having a highly memorable number.

Businesses that are competing directly with large, national companies and its important they're seen as being in the same league.

Businesses that want to look 'bigger' than their competitors and want to make an impact. Getting a 13 number elevates the company's status.

Businesses that do a lot of display advertising such as signage (building and motor vehicle), billboards and posters. Shorter numbers are easier to remember and especially useful for display advertising where its only seen for a very short time by the passing traffic.

Businesses that advertise on radio or TV, where high recall numbers are important to maximise the response rate. An easy to remember number, especially with a short sequence, can make a lot of difference to the success of the campaign.
If you're unsure as to whether a 13 number is right for your business, speak to one of our Business Consultants on 1300 00 1300 or CLICK HERE to make an online enquiry. We're the experts in helping businesses get the right number for their needs.